It's Raining Discounts at DrySign! This Holiday Season, Get 50% off On All DrySign plans!

It's Raining Discounts at DrySign! This Holiday Season, Get 50% off On All DrySign plans!
It's that time of the year again – Halloween is over, and November has brought the holiday season that everyone's been waiting for! With wallets strapped and emotions running high, customers are increasingly looking for brands that can provide personalized, convenient solutions to make their lives easier and better – at a discount! Business owners are no different. Gone are the days when discounts meant only clothes, accessories, or cosmetics! With ever-changing consumer expectations and market trends, organizations and business owners are always on the lookout for the latest digital solutions that can help them stay on top of the competition. Solutions like electronic signatures or e-signatures, for that matter!
They asked, and we heard! DrySign celebrates this holiday season with BIG discounts on all plans, starting 21st November 2022!!
DrySign, an end-to-end digital signature solution, allows businesses to leverage confidential, data-driven business operations from anywhere, anytime, from any internet-enabled device. DrySign isn't just a product; it provides an experience like none other without costing users a fortune.
A part of Exela's growing suite of home office solutions, DrySign focuses on supporting businesses and individuals to effortlessly and efficiently navigate daily document signing workflows amidst remote work arrangements. If offers an easy-to-use, cost-effective, secure, and legal electronic signature solution that helps businesses transform their documentation processes and operations. Besides being cost-effective, DrySign also helps improve TATs, enhances productivity at the workplace, and supports businesses embracing green, sustainable initiatives.
That being said, here's how much one of our clients, a leading organization, saved internally over 3 years, using DrySign:
$4.2M in 3 years
4953 hours per team in 3 years
$115,497 per team in 3 years
390 hours per team in printing over 3 years
$178 per team in printing
2439+ docs signed over 3 years
Want to save as much as they did and more? Let's begin today!
Our exclusive Holiday Offer gives you 50% off on ANY DrySign plan:
For DrySign U.S. (50% off on regular prices)
Annual Plans
Individual Plan: Pay only $3.50!
Professional Plan: Pay only $7!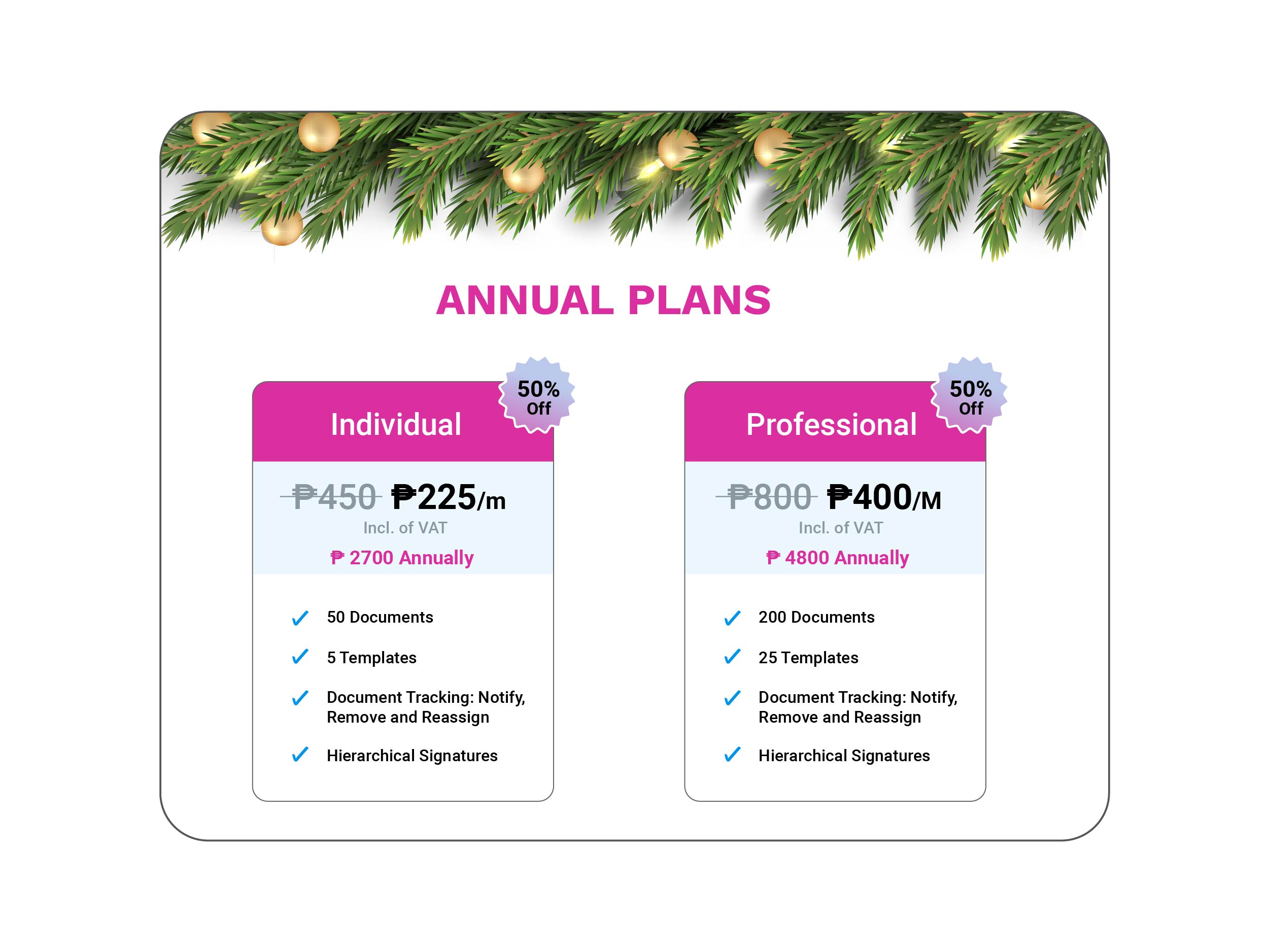 Monthly Plans
Individual Plan: Pay only $4.50!
Professional Plan: Pay only $8.50!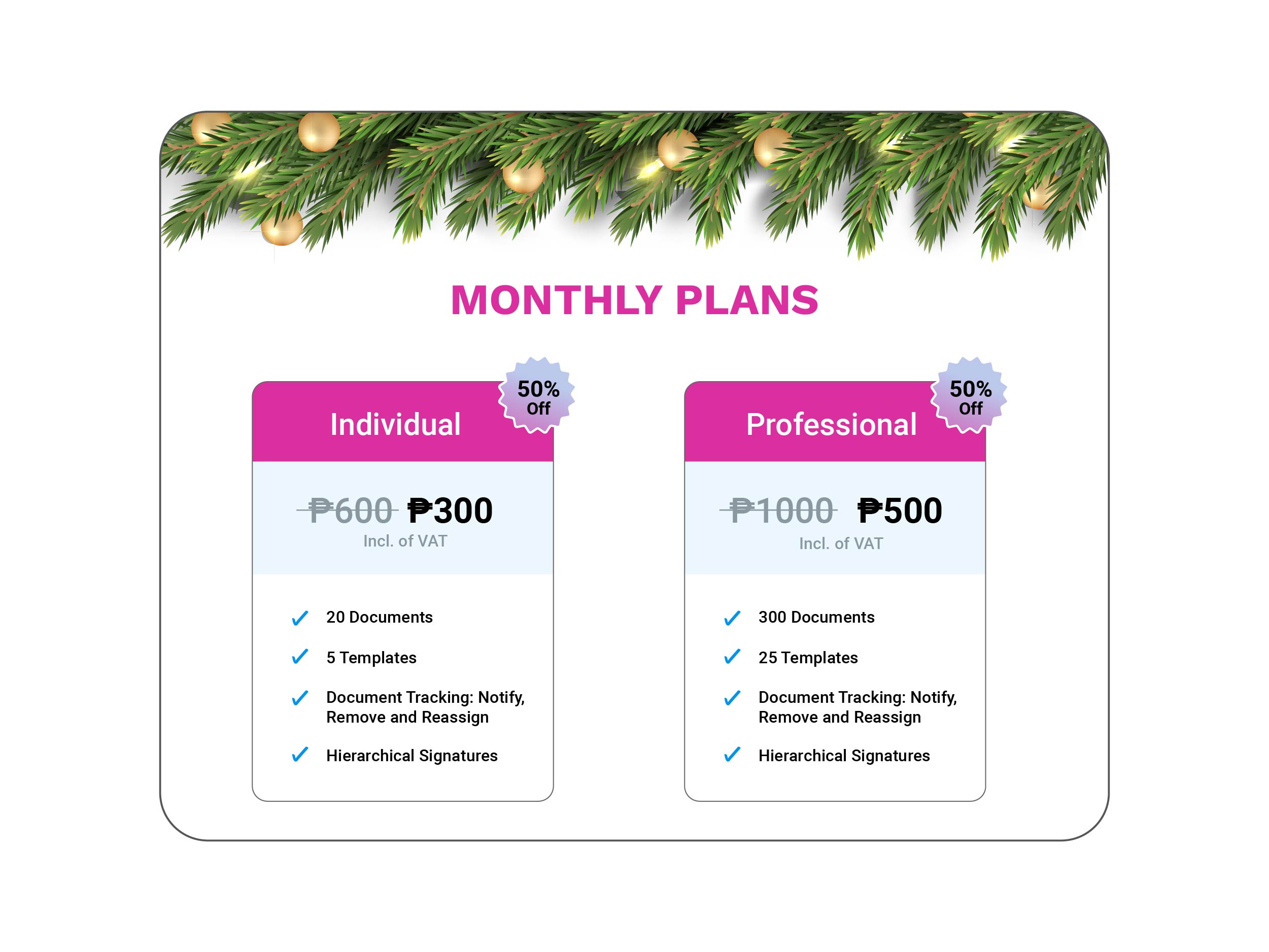 Top DrySign Features:
Legally compliant Electronic Signatures

DrySign complies with major e-signature laws worldwide, such as the Electronic Signatures in Global and National Commerce (ESIGN) Act and the Uniform Electronic Transactions Act (UETA).
Group Sign

This easy-to-use feature allows users to invite multiple signatories to sign documents online, regardless of their location, helping expedite the entire document signing cycle.
Smart Dashboard

DrySign's intuitive dashboard gives users a bird's-eye view of their digital signing history. Users can also explore the document tracking feature that gives them the leverage to track their document signing status and get a complete overview.
Real-time Mail Trails

DrySign empowers users to track their documents using security features like real-time mail trails and time stamps to help them stay updated and rest assured their document has not been tampered with.
Custom Notifications & Reminders

Users can easily set up reminders to sign documents online and receive and send real-time notifications to ensure there are no delays or hold-ups in the document signing flow.
Seamless Signature Workflow

DrySign enables users to easily upload documents in multiple file formats via a user-friendly interface. In addition, users can save their documents as templates to re-use in the future and save time!
Also Read: 10 Frequently asked Questions about the use of ESignature!
Countless benefits your way…
Here's a start to the never-ending list of DrySign e-signature benefits.
Big Savings:

The holiday discounts are an add-on to what DrySign helps users achieve either way – massive savings! DrySign e-signatures essentially help users eliminate costs associated with document handling such as paper, printer, scanners, delivery, ink, courier, and many more, which over a period, can add up to a small fortune!
Go Green:

DrySign helps professionals and businesses go green with less investment. Eliminating traveling helps reduce CO2 emissions, reducing paper usage helps reduce toxic paper waste, digitally signing helps reduce the plastic waste associated with document signing, and much more. Help the world breath freely! Trust DrySign with your go-green goals.
More Flexibility:

Sign documents on the go! DrySign is a location-agnostic solution that allows users to digitally sign, send, store, and receive documents from anywhere, anytime, on any internet-enabled device.
Improved TATs:

Drafting, printing, scanning, and sharing are functions that can take forever. DrySign helps share, sign, and store documents in less than 15 minutes!
Customer Satisfaction:

No strategy can beat good customer experience. When you provide prompt responses and communication to stakeholders, clients, customers, and colleagues, overall satisfaction is bound to surge.
It's a wrap!
To,
The people reading this,
This is your chance to thrive in today's digital age. Grab excellent holiday discounts on DrySign digital signature solutions and sign up for all the above-listed benefits! Sign up now!
This holiday season, take a break without letting your business suffer!
Get DrySign Now!
Happy Holidays!
DISCLAIMER: The information on this site is for general information purposes only and is not intended to serve as legal advice. Laws governing the subject matter may change quickly, and Exela cannot guarantee that all the information on this site is current or correct. Should you have specific legal questions about any of the information on this site, you should consult with a licensed attorney in your area.
Found this interesting? Share on your socials to let others know: